L' histoire des Deux Papas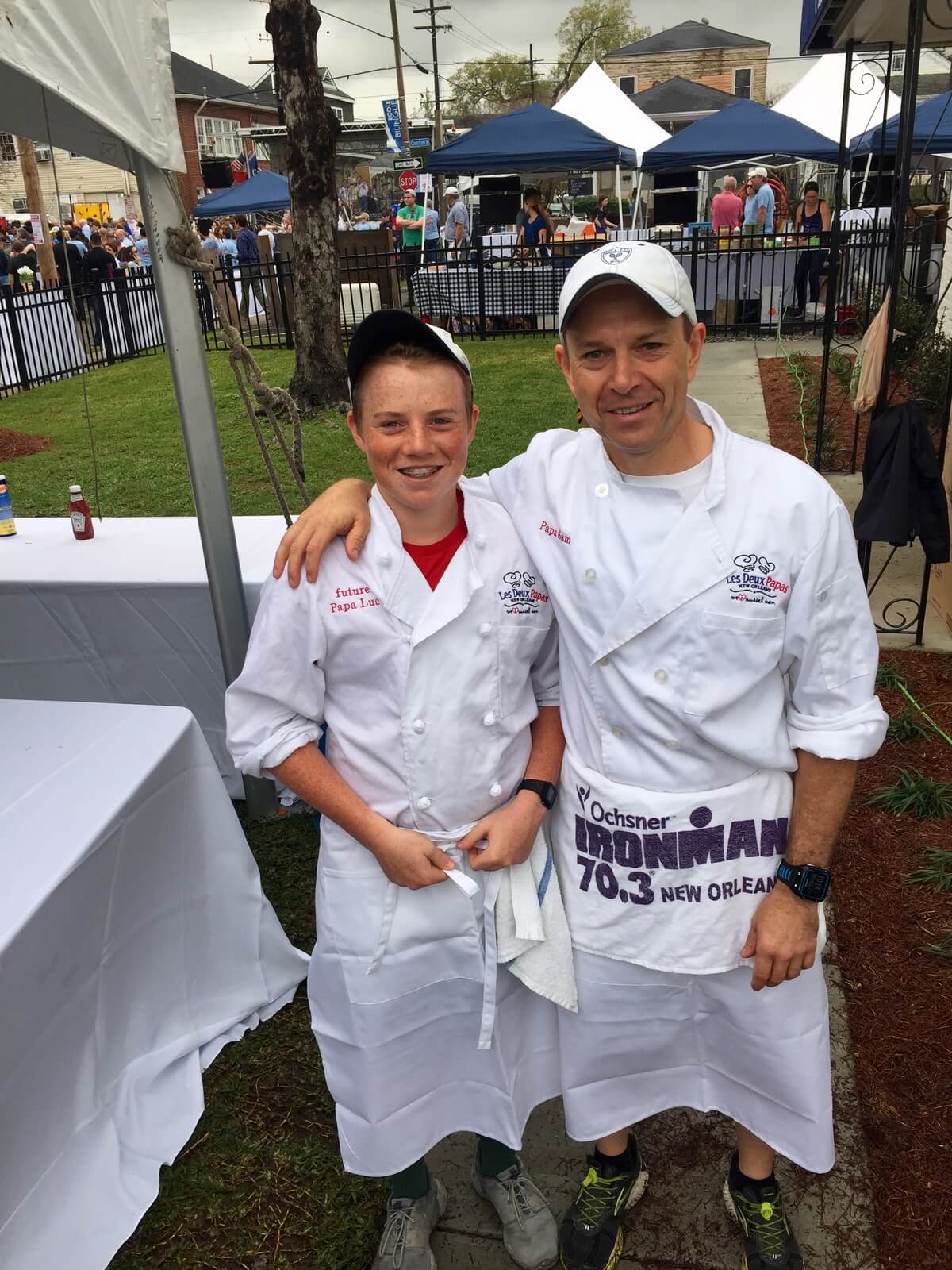 By Stephanie Bruno
Contributing writer The Times-Picayune PUBLISHED MAR 6, 2008
Dan Ness and Sam Prokop make their livings outside of the kitchen: Ness with an oilfield service company and Prokop with a software development firm. But about this time every year for the past eight years, someone walks up to them and asks, "So where is your restaurant?"


Dan Ness and Sam Prokop are well known for their "Moules Frites" (mussels and fries), which they serve at the annual Fete Française, fundraiser for Ecole Bilingue.They don't have a restaurant. They have a booth. The two men are fixtures at Fete Francaise, the Ecole Bilingue school's annual fundraiser, where the two dads -- or the Deux Papas, as they are known on the campus of the French immersion school -- fit right in among some of the area's finest professional chefs. Their signature dish, mussels and fries, is among the festival's favorites.Prokop, a native of France who learned his cooking skills in the kitchen of his grandmother in Nantes, says that moules frites -- the French name for the combination of mussels and fries -- is a traditional dish in France and one that he grew up enjoying. He and his family members would collect fresh mussels at low tide, clean them, then enjoy a family meal together.

"papa in training Luc" my son learning the ropes of the mussel cooking spectacle!
Colette "Coco" my daughter
Learning the ropes!
"It was something we would do every summer," he said. "We would wait for the tide to go out and then we would use a little rake and collect the mussels. After that we would sit for hours cleaning them with a knife or a wire brush to scrape off the barnacles, before my grandmother would cook them. It was a very social pastime."Fete Francaise organizers first drafted Ness, a cooking enthusiast who informally caters events and serves food for business clients, to prepare the dish in 2000. Prokop joined the team three years ago when his son Luc enrolled at the school.

Now his daughter Coco also attends."I had never cooked mussels before and I thought it would be easy, like boiling crawfish," said Ness, whose 10-year-old son Dante attends the school. "I had no idea."As it turns out, the process is much more demanding than Ness ever imagined. It starts with finding the freshest mussels available."The best are from Nova Scotia where the water is cold," Ness said. "We have them shipped in."Then there's the cleaning, a process not unlike what Prokop experienced as a child. What makes the work so grueling is that the mussels must be prepared in small batches.

Papa Jabari Greer (Saints #33), Papa Sam and "Papa in training Luc" my son
Sam Prokop
1/2 of Les Deux Papas
Dan Ness and Sam Prokop's Moules Frites (mussels and fries)."No more than 2 pounds at a time," Prokop explained. "Otherwise, you cannot shake the pan and roll the mussels to coat them with the wine and the seasonings while distributing the heat. And you must be very careful of the timing. When the shells open just a little bit, that is when you add the cream. Then when they open wider, they are done.""Last year, we cooked 350 pounds of mussels," Ness said. "But we ran out anyway. This year, we are doubling that amount."Prokop and Ness take turns, one preparing the french fries while the other cooks the mussels, then vice versa.

Ness says the fries require the same close attention as the mussels."For the fries to get crispy, they need to be cut 3/8-inch thick and the canola oil has to be right at 350 degrees when you add them," he said. "We serve them with aioli and they have to be crispy to stand up to the sauce."Prokop agreed that getting the fries right takes care."You have to watch the color and take them out of the oil when they are golden brown," he said. "If you do not pay attention, they will turn black very quickly."

My Son, "Papa in training Luc" shaking some pans.
Jabari Greer
Saints #33 - Papa Emeritus!
All day long at the Fete, Prokop and Ness hold court at their booth surrounded by their cadre of volunteers and promoters. They banter while they cook, occasionally clanging pot lids together to attract a crowd while extoling the virtues of moules frites.They have been known to sip a bit of wine while they work, too. Frying, serving, sipping, clanging -- all are part of the show.However enjoyable the celebration, it is also exhausting. The heavy-lidded pan that the mussels cook in must be flipped several times per batch.

And with more than 175 batches to cook, the process is hard on the back and arms."When the Fete is over and it's time to clean up, we are dead on our feet and always need help," Ness said. "But by then, most of our friends have had too much wine and have already left."Other than at Fete Francaise, the two men don't cook together, though both say they cook regularly."Last year, we cooked 350 pounds of mussels," Dan Ness said. "But we ran out anyway. This year, we are doubling that amount."

"I am definitely the cook in my house," said Prokop, whose wife Michelle is chairing the fundraiser this year. "It is always something a little different. Maybe boeuf carottes, maybe another dish I grew up with. If it is something special, I will use a recipe. But what I most enjoy is to be inventive with whatever I find in the refrigerator."

A family affair with La maman, my son "Papa Luc in training" and my daughter Coco
Papa Sam & Simon
Simon is always in attendance at Féte!
Ness says his wife, Leslie Bertucci-Ness, cooks most of the meals in his household."My wife is an excellent cook," he said. "But we have different ways of doings things in the kitchen. It's probably better I don't cook much at home because she would be telling me I should do things her way."Ness satisfies his passion for cooking by preparing food for his clients.

He now owns two trailers filled with professional cooking equipment ideally suited to preparing jambalaya and boiled crawfish.The mussel recipe that Ness and Prokop prepare for the Fete Francaise is just one version of the traditional dish. The Deux Papas acknowledge that there are as many ways of cooking mussels as there are families in France, rather like the local tradition of red beans and rice. For the mussels, one recipe may have garlic, another fresh tomato.Ness says a competition was staged several years ago to choose the version of moules frites that would be served at the Fete."We had all of the French teachers at the school taste different versions of moules mariniere from restaurants around town until they agreed on the one they liked best," Ness said. "That's the taste we decided to go for.

"This year, the men are debating whether to add roasted garlic and chopped tomato to the sauce, something they experimented with recently."It adds a little something," Prokop said."A sweetness," Ness remarked.Whatever the exact ingredients they use on Saturday, Ness and Prokop can count on an appreciative audience for their wares.

But now they know better than to send their admirers searching for a restaurant that doesn't exist."I used to joke that it was on Magazine Street," said Ness. "But I was mortified when someone told me one year, 'I drove all up and down Magazine Street looking for your place, but I never could find it. Where exactly did you say it is?'"I learned my lesson about that."TOUGH WORK: The heavy-lidded pan that the mussels cook in must be flipped several times per batch. And with more than 175 batches to cook, the process is hard on the back and arms.If asked where to get the highly vaunted moules frites, Ness said he will simply tell his fans they must return to the Fete next year.

Papa Sam, Andrew, Jabari (#33),"Papa in training Luc and Papa Paul.
Dan Ness


Les Deux Papas OG !
Dan Ness created Les Deux Papas and ran it for a few years before Andrew and I got asked to participate. Dan had a gregarious and outgoing personality and a heart made of solid gold. The Fête Française fund raiser, benefiting Ecole Bilingue de la Nouvelle Orleans (EB for short) where Dan's son went, was Dan's favorite time of year. The spectacle and incredible success that is Les Deux Papas today is Dan's legacy and something that Andrew and I feel very strongly about and that we are devoted to preserving. It is part of EB's history forever. Dan sadly passed away and we miss him dearly every year. RIP dear friend.
Dan Ness and Sam Prokop in the early days of Les Deux Papas.